Advertising for Elementary School Admission
S U C C E S S    S T O R Y
CLIENT: KATHMANDU WORLD SCHOOL
Within the second year of operations, Kathmandu World School has become a brand to admire for many in its specific target segment of Nepal. With the help of integrated advertising campaign run for 3 weeks, KWS could successfully attracted more than its expected number of parents and filled the classrooms with eligible students.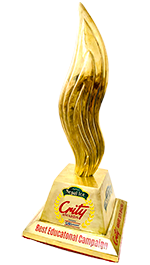 T H E   B R I E F
A few years ago, a group of leading Nepalese educationists and entrepreneurs felt the need to establish a semi-residential school of an international standard in Nepal to meet the growing demand of high-quality holistic education for children of five to nineteen years. Thus, Kathmandu World School (KWS) was established at Surya Binayak – 7, Gundu, Bhaktapur. The school offers a full-fledged high school programme from grades 1-12. The school possesses world–class infrastructure supported by the state–of–the–art facilities in a serene and peaceful location, conducive to a unique learning environment. The buildings and facilities are spread over 55 ropanis of land endowed with lush greenery and abundant natural beauty. The first phase of construction has almost been completed while the rest of the project is tentatively scheduled to attain completion by December 2019. The school, when fully operational, will have a total capacity of 1,390 students of which there is provision for 400 students to reside in the school hostel. The Academic Year 2075 BS (2018-19) marked the commencement of the academic programmes at the elementary (Grades 1, 3,4 and 5) as well as secondary school (Grade 11 Science and Management). For the upcoming Academic Year 2076 BS (2019-20), the school will be offering seats in Grade 1-5 (Lower Elementary) as well as Grade 6, 7 and 8 (Upper Elementary).
T H E   C H A L L E N G E:

 As a new and high-end education entity, what would be the right brand positioning? How to breakthrough the parents' confidence over their children's education for future? Why should they come to KWS?write yours
O B J E C T I V E
Primary objective is to reach out specific target parents, having school going children and motivate them to enroll their kids at Grade 1-8 in Kathmandu World School. And, secondary objective is to build brand awareness that promotes Progressive Education, World-class Infrastructure driven by KWS core values and strengths.
G U I D E L I N E S
Entire advertising and promotional activities shall align with visual and content alignment with KWS Brand Guidelines. Both horizontal and vertical approval procedure have to be followed to achieve conscious delivery of customer touch-points, integrated communication channel and effective conversion planning.
Communication Strategy:
Primarily, highlight the major distinguisher and unfair advantage of the school to breakthrough competition, which is its purpose-built, world-class infrastructure. Secondly, subtly register the values, school deliver to the students via Progressive Education and teaching-learning methodology. Carefully attributed audience archetype, who are not the students but parents living in urban areas of Kathmandu and major cities across Nepal having reasonable disposable income and value education for their kids.
Creative Strategy:
Elegant, sophisticated AdWork design led by clear Headline "Progressive Education in a World-class Infrastructure" supported by perfect student archetype and school masterplan. Visual appeal should speak in itself. Simple and clear headline and copy to deliver straight-forward message and urge designated target audience to take quick action via distinctive CTA and customer touch points.
Media Strategy:
Optimised Media-mix to reach out in pre-defined target audience according to their demographic, preferential and behavioural choices. Media activation of 70:30 in both online and offline medias respectively, to bring out effective and efficient campaign objectives and take response strategy to rightfully balance the expected and delivered campaign effectiveness.
Conversion Strategy:
Set up effective and efficient activations, communication channels, response strategy and smooth admission procedures to enhance customer experience. Widening a bottle neck conversion process with extended response system and proper sales funneling to major and monitor the outcome of campaign that would deliver and ensure expected campaign objectives.